Events
Volunteer Group Project Schedule 2021-2022
| | |
| --- | --- |
| DATE | COUNTRY / TYPE OF TRIP / LOCATION |
| March 16 – 21, 2021 | Kentucky / Original / Dental Clinic – Jenkins, KY |
| March 23 – 28, 2021 | Kentucky / Original / Dental Clinic – Jenkins, KY |
| May 22 – 30, 2021 | Mexico / Comfort / Dental Clinic and sightseeing – Akumal |
| May 30 – June 7, 2021 | Mexico / Comfort / Dental Clinic and sightseeing – Akumal |
| June 20 – July 2, 2021 | Cambodia / Comfort / Dental Clinic and sightseeing– Siem Reap |
| July 16 – 25, 2021 | Guatemala / Original / Dental Clinic – Mayan Highlands Sightseeing – Antigua |
| July 23 – Aug. 1, 2021 | Guatemala / Original / Dental Clinic – Mayan Highlands Sightseeing – Antigua |
| July 30 – Aug. 10, 2021 | Guatemala / Original / Dental Clinic – Mayan Highlands Sightseeing – Antigua |
| September 21 – 26, 2021 | Kentucky / Original / Dental Clinic – Jenkins, KY |
| Sept 28 – Oct 3, 2021 | Kentucky / Original / Dental Clinic – Jenkins, KY |
| Oct. 30 – Nov. 7, 2021 | Mexico / Comfort / Dental Clinic and Sightseeing – Akumal |
| November 7 – 15, 2021 | Mexico / Comfort / Dental Clinic and Sightseeing – Akumal |
| Nov. 21 – Dec. 3, 2021 | Cambodia / Comfort / Dental Clinic and sightseeing– Siem Reap |
| Feb 1 – 14, 2022 | Kenya / Original / Dental Clinic – Chogoria Safari – Masai Mara |
| Feb 20 – March 4, 2022 | Cambodia / Comfort / Dental Clinic and Sightseeing– Siem Reap |
| March 10 – 24, 2022 | Nepal – Pharping / Small Adventure / Dental Clinic – Pharping Sightseeing – Chitwan |
| March 18 – 27, 2022 | Guatemala / Comfort / Dental Clinic and Sightseeing – Antigua |
| March 25 – April 3, 2022 | Guatemala / Comfort / Dental Clinic and Sightseeing – Antigua |
| April 19 – May 9, 2022 | Nepal / Original / Dental Clinic – Kathmandu Trekking – Everest Trail |
| April 23 – May 1, 2022 | Mexico / Comfort / Dental Clinic / Sightseeing – Akumal |
| May 1 – 9, 2022 | Mexico / Comfort / Dental Clinic / Sightseeing – Akumal |
| May 27 – June 5, 2022 | Guatemala / Original / Dental Clinic – Mayan Highlands Sightseeing – Antigua |
| June 3 – 12, 2022 | Guatemala / Original / Dental Clinic – Mayan Highlands Sightseeing – Antigua |
| June 7 – 19, 2022 | Cambodia / Comfort / Dental Clinic and Sightseeing– Siem Reap |
| June 19 – July 1, 2022 | Cambodia / Comfort / Dental Clinic and Sightseeing– Siem Reap |
| July 15 – 24, 2022 | Guatemala / Original / Dental Clinic – Mayan Highlands Sightseeing – Antigua |
| July 22 – 31, 2022 | Guatemala / Original / Dental Clinic – Mayan Highlands Sightseeing – Antigua |
| Aug 22 – Sept 5, 2022 | Ladakh, India / Original / Dental Clinic and sightseeing – Leh, Ladakh |
| Sept 3 – 17, 2022 | Ladakh, India / Original / Dental Clinic and sightseeing – Leh, Ladakh |
| Oct 12 – Nov 1, 2022 | Nepal / Original / Dental Clinic – Kathmandu Trekking – Everest Trail |
| October 15 – 23, 2022 | Mexico / Comfort / Dental Clinic / Sightseeing – Akumal |
| October 23 – 31, 2022 | Mexico / Comfort / Dental Clinic / Sightseeing – Akumal |
| Oct 27 – Nov 11, 2022 | Nepal Chitwan / Original / Dental Clinic – Kathmandu Sightseeing – Chitwan National Park |
| Oct 30 – Nov 11, 2022 | India / Small Adventure / Dental Clinic – Kurseong Sightseeing Darjeeling |
| November 13 – 29, 2022 | Nepal / Small Adventure / Dental Clinic – Pokhara Sightseeing – Annapurna Trek |
| November 13 – 25, 2022 | Cambodia / Comfort / Dental Clinic and Sightseeing– Siem Reap |
Past Projects and Events
Each year more than 5,000 children in the mountainous regions of Guatemala, Nepal, Vietnam and India have their lives enhanced through the work of the Smile Tree and Climb for a Cause. The services provided to these children have translated to as much as $1.2 million in eqjuivalent annual dental services through the work of over 100 dental professional volunteers. Since 1996 over 100,000 children have been helped through this work.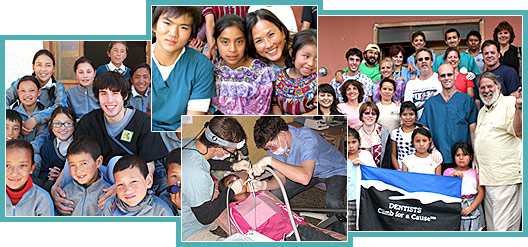 Photos courtesy of Global Dental Relief
In 2013 SmileTree sponsored nine oral health education and treatment projects.
Smile Tree Branch office members are always welcome to be a part of one of these life changing trips. To learn more please contact:
Daniel Bobrow (Executive Director)
Smile Tree / Climb for a Cause
747 Brighton Circle
Port Barrington, IL 60010
312-455-9498
Info@SmileTree.org
Director@ClimbForACause.org